---
 Integrated modular design,optimized dust-proof ensures eco-friendly standard. The whole plant is highly integrated which saves a lot of space, meanwhile the passageway for trucks is left wide for easy transportation.
Enquiry
---
  Overall structure

  General description:
   Integrated modular design,optimized dust-proof ensures eco-friendly standard. The whole plant is highly integrated which saves a lot of space, meanwhile the passageway for trucks is left wide for easy transportation.
  Bitumen and hot oil pipes adopt quick-connection interface, which could decrease 20% installation time than normal device.
  The liners in the drying drum use adjustable structure, that is much better for even material curtain, the burners are from top international brand, suitable for different fuels.
  Vibrating screen is our star product, with long life span and less maintainence.
  The mixing plates and liners are manufactured with nickel-chromium-molybdenum alloy material, the high strength and abrasion can fit for tough working condition.
  The dust-collection system has two phases, it could minimize the dust emission.
  High stability and automatic control system promise durable and continuous production.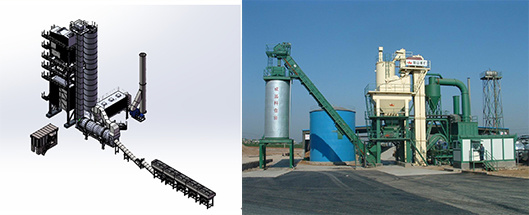 1 Cold aggregate system
  Number of hoppers could be customized, each hopper is 3.6m in width and 3.88m in height;
  The aggregate feeders have frequency control, feeding efficiency is between 30-150tph;
  Equipped with Material shortage alarming device;
  All reducers are Siemens brands.

  2 Drying and heating system
  The material curtain and dust-collection parameters are optimized to reach higher heating efficiency, the international burner brand ensures stable burning work, it is inter-locked with the aggregate temperature sensor, realizing automatic adjustment;
  The drying drum has a leaning angle of 3.14°, driven by Siemens reducer, the liners are designed with quick-replacement devices, the discharge tube is equipped with abrasive temperature sensor, of which the accuracy is <±3%;

  3 Dust collecting system
  Two phases design reduce dust emission as much as possible, the emission density is ≤50mg/Nm3, Ringerman blackness ≤Ⅰlevel;
  The mixing tower has minus-pressure system, which avoids dust leakage;
  The second phase is the bag house, 98% of the bags work at the same time, the collected dust would be transported to powder silo through the screw conveyor, the induced draft fan is controlled automatically, the input and output of the bag house have temperature sensors, the upper and lower chamber have pressure meters, these devices promise safe and qualified production.

  4 Mixing tower
  4.1 Hot aggregate elevator
  Plate chain wear-resistant type,direct Siemens motor-reducer , the feeding and discharge gates are installed with abrasion steel;the elevator body is totally sealed.

  4.2 Vibrating screen
  High sieving efficiency and quick mesh changing design;
  4 groups of springs minimize the externally transmitted vibration;
  Sieving efficiency is more than 85%;
  Bigger maintainence space.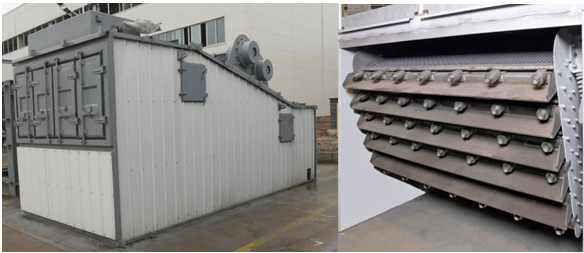 4.3 hot aggregate hopper
  The structure and outlook adopt the same frame structure as the mixing tower, it has two levels, increasing the usage. Continuous level sensor is equipped. Extra material and oversize material have separate tubes, each hopper has the maintainence door, sand hopper has temperature monitoring device.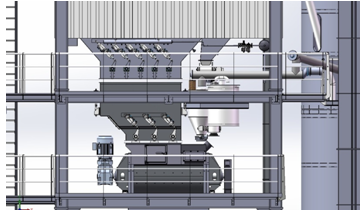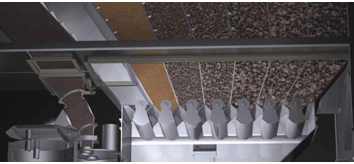 4.4metering system
  l Powder silos use Toledo sensors, new and waste powder adopt screw conveyor and rotary valve;
  l Bitumen scale use Toledo sensor, the bitumen self-flows into the mixer;
  l The aggregate scales use suspending, high-accuracy Toledo sensors, 3 gates discharging design.
  l The discharging gates have several opening levels, designed to control the tail feeding to reach high accuracy.

  4.5 mixing system
  The mixer is driven by Siemens reducer, the bearing brand is NSK, mixing plates and liners and high abrasive materials, the life span could be up to 100000 batches;
  The discharge gate is designed with emission-avoiding system, no dust or smoke during product unloading;

  4.6 Pneumatic system
  All international brands meet high stability and low maintainence cost.

  5 Powder supplying system
  Powder silo has upper and lower chamber, each for new and recycled powder.
  The silo has top and bottom level sensor, anti-arching device is installed at the silo cone.
  Screw conveyors are WAM brands.
  Silo top has dust collector.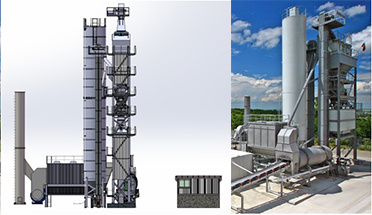 6 Finished product hopper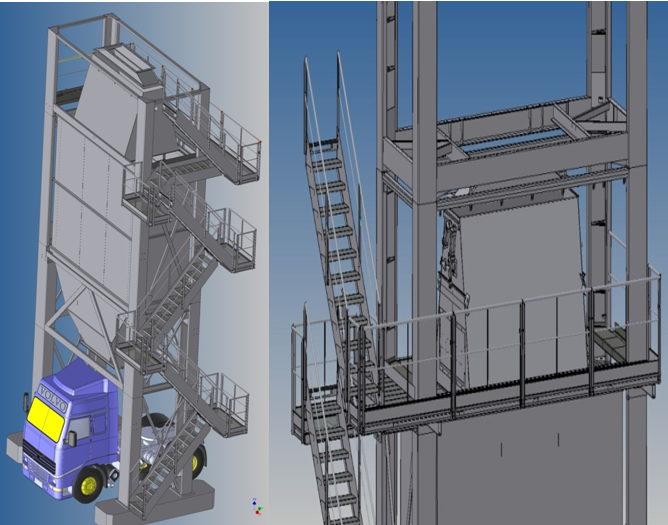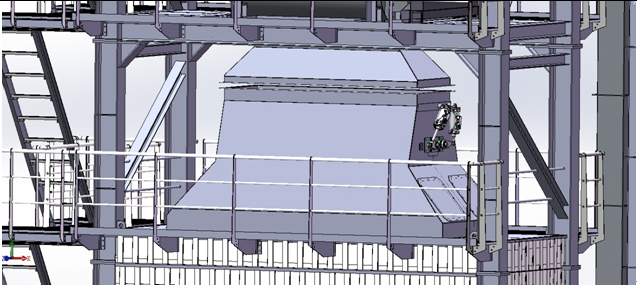 7 Bitumen and fuel supplying system
  The number of bitumen tanks is according to customer demand, oil tanks have level meter and temprature meter;
  Bitumen recycling pump is our patent product;
  Bitumen pipes and valves have hot oil heating and rock-cotton insulation;
  All tanks have maintainence platform;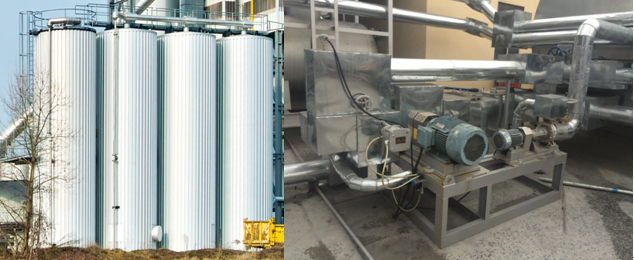 8 Control system
  Fully automatic operation system, Siemens PLC;
  Real-time recording and data management;
  Both automatic and manual control functions could be done in the control room.
  Big storage space for different formulas and production records;
  Different products switch easily;


    Specification
Model
LB3000
LB4000
LB5000
Capacity under standard condition(t/h)
240
320
400
Cold hopper
Quantity
Accordingly
Accordingly
Accordingly
Volume (m3)
12
15
15
Drying system
Length and diameter(m)
9.5/2.5
11/2.7
11.1/2.9
Power (kW)
4×18.5
4×22
4×30
Fuel type
Diesel and hot oil, gas
Burner power(MW)
20
24
30
Diesel tank(m3)
10,vertical
10,vertical
10,vertical
Heavy oil tank(m3)
50,horizontal
50,horizontal
50,horizontal
Dust collecting system
Wind amount
90000 Nm3/h
120000 Nm3/h
140000 Nm3/h
Filter space(m2)
889
1131
1300
Draft fan power(kW)
160
200
220
Mixing tower
Aggregate elevator(t/h)
240
320
400
Screen decks
5
6
6
Screen model
5LZSF2050D
6ZWF2256G
6ZWF2460
Sieving space(m2)
48
68
82
Hot aggregate space(t)
80
100
120
Aggregate scale(kg)
3500
4500
5000
Powder scale(kg)
400
500
600
Bitumen scale(kg)
250
350
400
Metering accuracy
Aggregate:≤±0.5%;Powder:≤±0.3%;Bitumen:≤±0.2%
Mixer(t)
3
4
5
Power (kW)
2×37
2×45
2×75
Max capacity(t/h)
240
320
400
Finished product hopper(t)
100t/2仓
Air compressor
3 m3/h,8kg
3 m3/h,8kg
5 m3/h,8kg
Tower sealing
Optional
Optional
Optional
Powder system
Customized
Standard Volume
50+80m3
50+80m3
50+80m3
Bitumen supplying system
Structure
Standard horizontal type with hot oil heating, electrical heating and vertical tanks are optional
Tank volume(m3)
3×50
4×50
4×50
Hot oil burner(kcal/h)
1000000
1000000
1000000
Bitumen discharge pool (m3)
1×5
1×5
1×5
Control system
Type
Siemens PLC + industry computer, fully automatic control
Control room
6m container type
6m container type
6m container type
Total power(kw)
650
750
850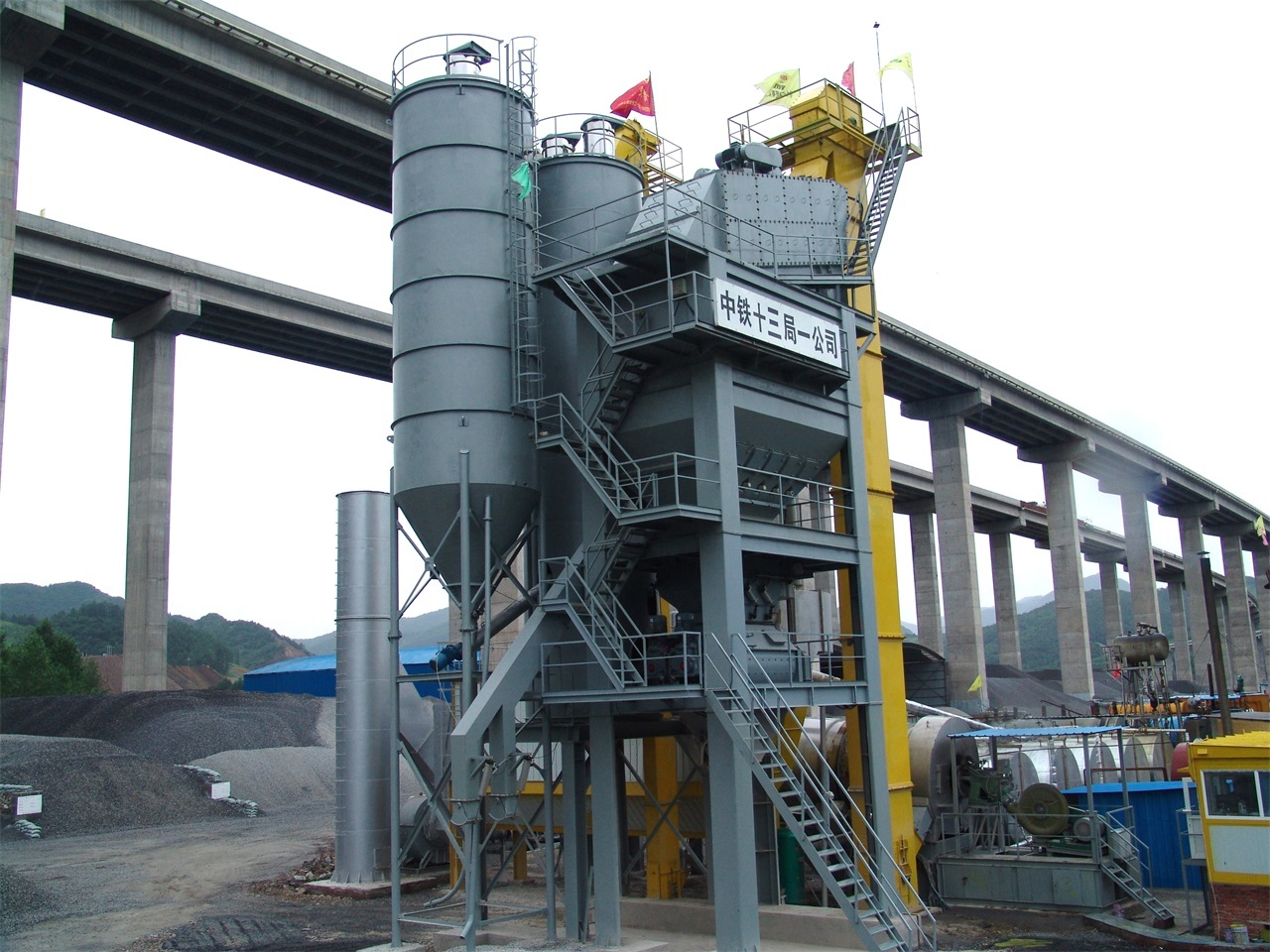 Company address
294 Anqian Road, Anshan, Liaoning, China
---